Features
---
● Small initial head loss of porcelain sand filter bed, save cost for capital construction;
● Large interception of sewage within 9~10kg/m3 . Approximate 1.2~1.5 times of Quartz sand filter pond(7.8~9kg/m3)
● Spherical surface, easy to clean. Backwash water consumption is reduced by 30~50% than Quartz sands.
● High density , low abrasion, 5 times working life than Quartz sands.
● Nontoxic, easy to be filled, no secondary pollution.
Product Details
---
Porcelain sand is made by careful processing and high-temperature calcination by adoption high-quality kaolin, binder, pore-forming agent and the rare earth resist. It's new type of artificial filtration material which has white appearance, hard texture, particle uniformity, high porosity and high roundness. This filtration material has many advantages, such as small initial water-head loss, high strength, small abrasion, good water quality of effluent, large water production, easy to clean, long working life, etc..
Composition:

Performance: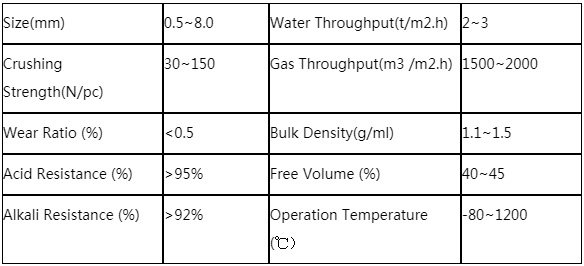 Application:
● Pharmaceutical, chemical, oil, electricity , electroplating, paper-making, brewing and other industries , can be used in different types of sewage, tap water, industrial circulating water, and urban sewage treatment;
● Used as filtration materials of filter pond for boiler supplementary water which has strict requirements on SiO2;
● Fit for ion exchange and reverse osmosis treatment equipment pretreating, also be used as supporting layer sorbed by resins or activated carbon.
Diameter:
0.5~1mm   0.6~1.2mm   1~2mm   2~4mm   4~8mm