Business Opportunity Handling


You must be the registered user of CERADIR.


You must upload clear and valide company business license.


You must pass through CERADIR's company entity authenticity certification.


---
Data Security
We SERIOUSLY PROMISE: All of your data are safe and under protection.  The data communication get SSL/HTTPS encryption when you visit CERADIR, and this technology is also apply to bank online service encryption. By the way, All encrypted data are backed-up to Several CERADIR servers to make sure avoid the data lost.

Now we deploy "Safedog", a professional security software. At the same time we are winning over extreme high level protection and CSA STAR authentication, we'll update the informations once there's a progress related.

CERADIR server use Alibaba Cloud Computing ECS flexible calculation rule, protected by ali cloud shield, which include DDoS protect, CC protect, website security protect, SQL injection protect, XSS attack protect and so on. Server data use full-encryption technologie, only allow intranet communication, the given intranet IPs are allow to work in system level, in order to protect user data security in server level. All CERADIR communications adopt 256-bit HTTPS encryption to ensure user data security transfered between server and browser. Database adopt high level security framework, source code (SC)data opacite encryption, strictly prevent breaking away from database. CERADIR also use CloudDBA performance monitory data, to real time monitoring database index and security.

CERADIR database make backups everyday, and use SSH long-range backup onto safe server, to protect user data integrity.
---
Account


Offer more clear and comprehensive introduction of your company, and upload more photos of its company / factory, to increase your own persuation.


Use featured products and showcase products to advertise your advantage.


Show company news, present your entrepise culture and business ideas.


Publish your products as much as possible and make them with clear photos & detailed introductions, to satisfy different demands of buyers.


Complete your certificates as possible, to let all customers know well about your company.


A high quality product's introduction must include the following points:


Title. Including brand, model, and other key words to attract the buyer.


Category. Choose correct product category, ensure buyer can use filter to find your offers.


Property. Complete the product property as much as possible, let buyer know your product well.


Photo. Attach more and clear product photos, the photo pixel size reach at least 800*800, so that you can get a best display effect.


Introduction. Describe your product clear, which include performance, detailed drawing, material, application, service after sell etc. That may be the bonus of your product.


Setting. Photo / keyword / category must be set completely and correctly related to product.


When a buyer is searching product in CERADIR, as result VIP member's product will be in front of the regular member's. But in the same conditions, a product with clear and quality informations, it will be shown in the front. High quality information can attract buyer and easily get an inquiry.

Beyond that, there are also many intergrated conditons which influence the rankings, for example a member's credit rating, a buyer's search preference, similar product suppliers' quantity, product published quantity, etc. The rankings are calculated by a complex system formula, it is not under control.


It can reflct supplier's profession and attentively and earn buyer's trust.


Attract buyer, increase the chances to get an inquiry and business deal.


More chances to pick by CERADIR and push to homepage recommended link.


You need to modify your company informations normally at two cases:


Company original registered information changes:


For example when you change your email address, update your new address to make sure information consistency.
2. Company data changes:
1). Address, contact person, phone changes.
2). Line of business like main products, service and so on changes.
3). C nature changes.
4). Obtained qualification changes like ISO / other organization's authentication information changes.
5). Others what you consider to make modification / adjustment.
A company's basic informations entering is permanent for free, which include: Business license, company's name, logo, white paper and other related informations.
1.【Supplier module 】Sub-account
1)、Message center: review system message and private message.2)、Profile management: Edit company profile3)、Buyer management
- Buyer management: review buyer list, favorites and browsing history.
- Reviewed records: to know who searched you and his information.
4)、Business opportunity handling:
- Inquiry center: Inquiry and RFQs informations.
- My inquiries: my favorite public inquiry and private RFQ.
- My RFQ conversations: check conversations with buyer.
5)、Product management
- Product group: Add, edit or delete product line.
- Add new product: Publish new product or save as draft.
- Featured product settings.
6)、Resources management:
Company / factory photos, equipement photos, product gallery, product drawings, certification documents, digital documents, PR materials
7)、Value-added service:
- Product showcase
- Inquiry subscriber
2、【Buyer module】sub-account
1)、Message center: review system message and private message.2)、Inquiry management: 
- My inquiries
- Create new inquiry: The public inquiry is valid for 15 days; the private inquiry is valid for 7 days. If no quote received or inquiry deleted, the inquiry will automatically converted to the public.
3)、Business opportunity handling:
- Inquiry center: review my sent product inquiry / my sent request for quotation.
- RFQ conversation: conversations about request for quotation.
- Product inquiry conversation: conversations about product's inquiry.
- Product inquiry cart
- My favorite products
4)、Supplier management
- Supplier list: view business status and procurement security status of supplier
- Favorites: my favorite suppliers.
- Browsing history
- Review records
5)、Resources management:
Product gallery, product drawings, digital documents.
6)、Account setting
- Account information: Change avatar, basic information, new password, preference setting.
- Change password
- Preference setting: Language, CERADIR industry news push.
- Feedback
3、【Digital marketing module】sub-account
1)、 Message center: review system message and private message.2)、News management
- News list
- Create news: Publish news or save as draft
- News category management: add new category
- My favorite news
- Verification history: Test review passed / review failed history
3)、Exhibition / conference management
- Exhibition / conference list: Edit or review active and related events.
- Creat exhibition / conference: Publish or save as draft.
- exhibition / conference management
- My favorite exhibition / conference.
- Verification history: Test review passed / review failed history
4)、Resources management:
Digital documents, PR materials
5)、Account setting
- Account information: Change avatar, basic information, new password, preference setting.
- Change password
- Preference setting: Language, CERADIR industry news push.
- Feedback
Sub-account is a CERADIR offered service, manager can create sub-account and give autority according to his own demand, and the company staffs can use sub-acc to manage different product or reply to different type of inquiry.
Sub-account advantages:


More manageable. All sub-acc are assigned by main account. Main acc can authorise different jobs.


Ensure information security.


1.Browse homepage, click "Find suppliers" button on the top, as below:

2.Enter find suppliers page, choose supplier search box, input corresponding company name, then click green search button.

3.When search related company, click "view supplier " button on the right, go to next step

4.Enter the unclaimed company page, click "claim this company" button.

5.After click, you arrive to registration page, input all information to go to next step.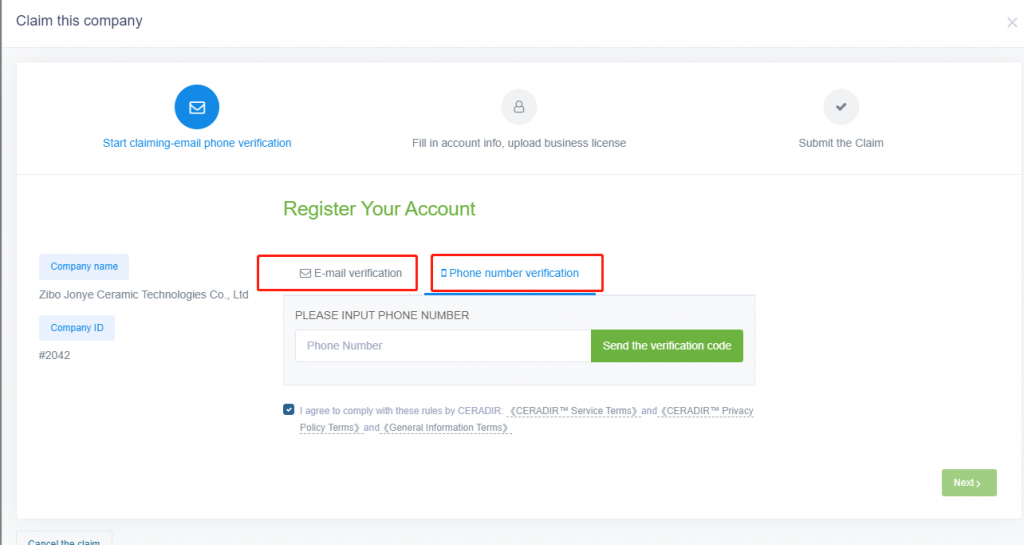 6.Uplaod your business license and input account information, go to next step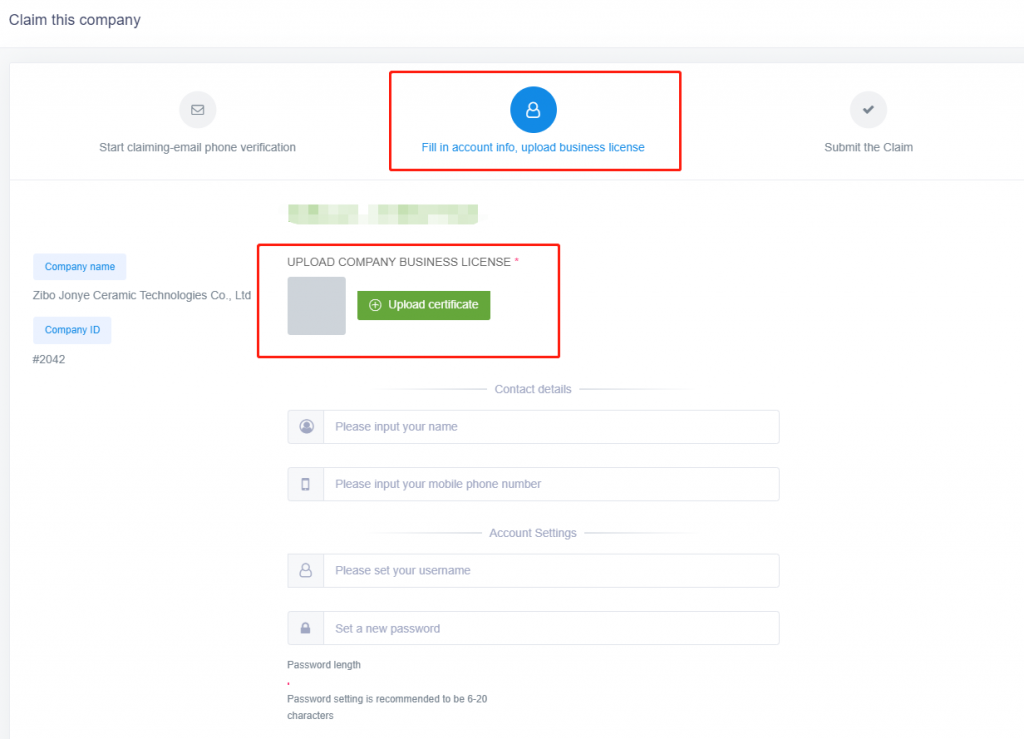 7.Submit your claim, wait for reviews, then finish the claim process
1.Sign in your main account , click right top "Dashborad" button.

2.Check left side menu, choose "Sub-account management" then click"Create sub-account"

3.Input the email, choose a role according to your invited staff, then click "SEND INVITATION"

4.If you want to add more sub-account, you can also click"add sub-account" in the "Sub-account Management" fonction.
PREPARE: Business license(photo), phone number, email, company full name
1、Open
https://ceradir.com/
2、Click "Join Free" on the top right side, go to next step.
3、input register email address or phone number, both are available
3.1 email registration process
Type correct & unregistered email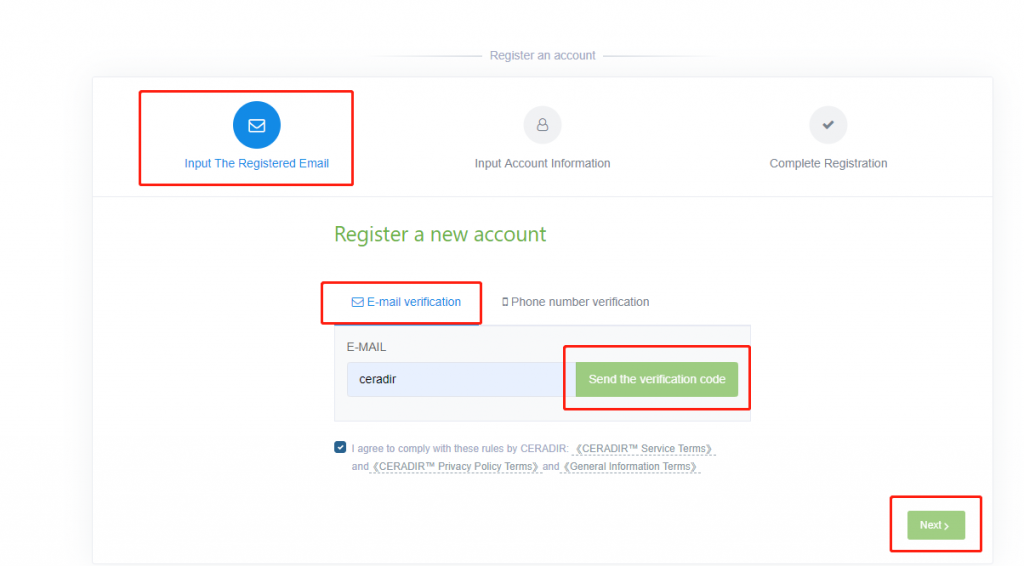 Input correct verification code, you can get it from your registered mailbox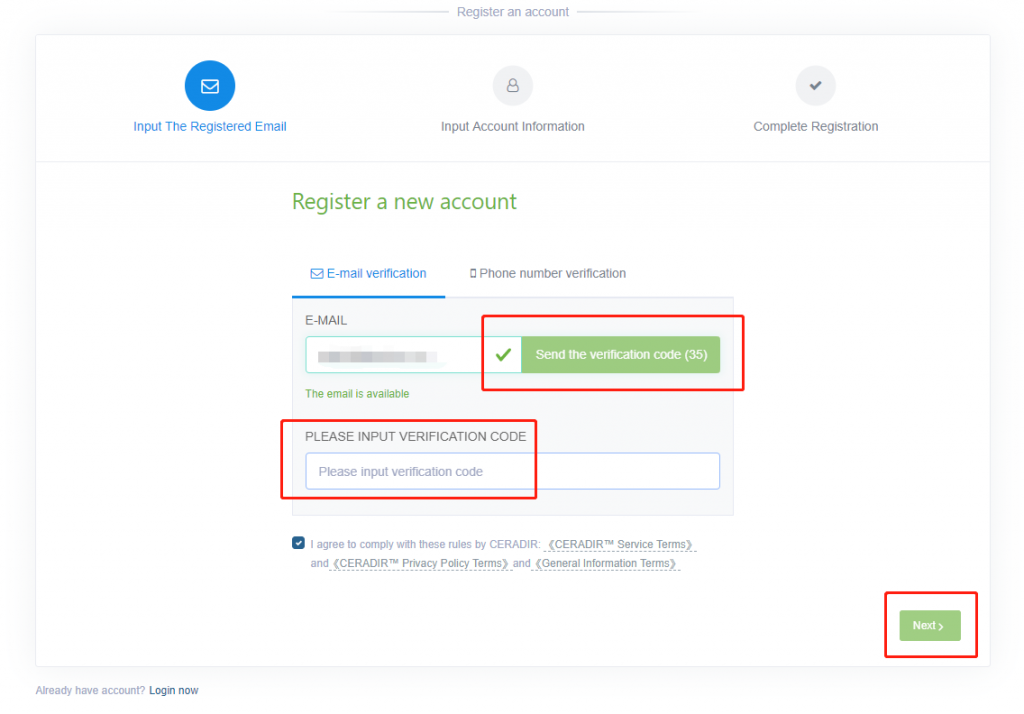 3.2 Phone registration process
Change to phone number verification, input correct & unregistered phone number
Input correct verification code you received from phone MSM
4、View if you are agreed with <User agreement> and <General Information Terms>, please make tick to go to next step.
5、Input registration information as required.
6.1 Input the company name on your business license.
During the company name verification, it may appear a sort of conditons as below:
1) Your company name exists in our database, shows "claim this company", and you click the button to the next step.
2) Your company is already registered but still under reviews, please wait for the pass of the audit.
3) Your company is registered, it may show "verified", and you can sign in directly with registered account.
4)You input the company name, but nothing shows on the right hand side.
6.2 Please upload your company's business license(need clear & complete license photo)
6.3 Set account username & password as required.
7、Fill in completely, then click "Next".
8、Finish the registration. (Registration success, input your username and password.)
※After sign in, your account is normally "under reviews". CERADIR will finish the verification in 24hrs. If check failed you can also receive a message feedback.
Retrieve password link:
www.ceradir.com/forgot-password
1.Browse the link above or click the "login" button on homepage.
2.Skip to login page, click "forget password?"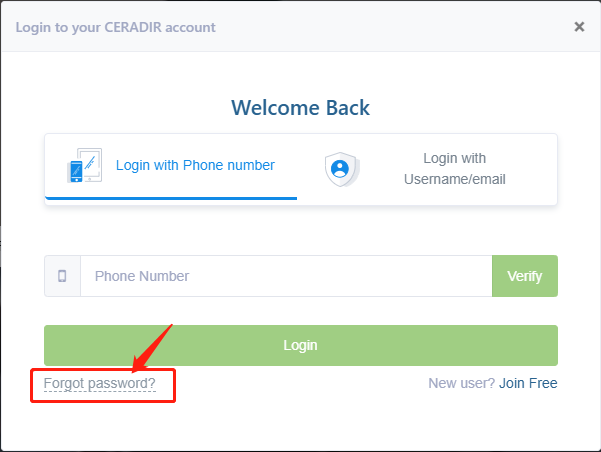 3.Skip to retrieve password page, input your email / phone number for your registration, input the graph validate code, then click "next" on the right buttom, achieve steps ①②③④⑤in sequence.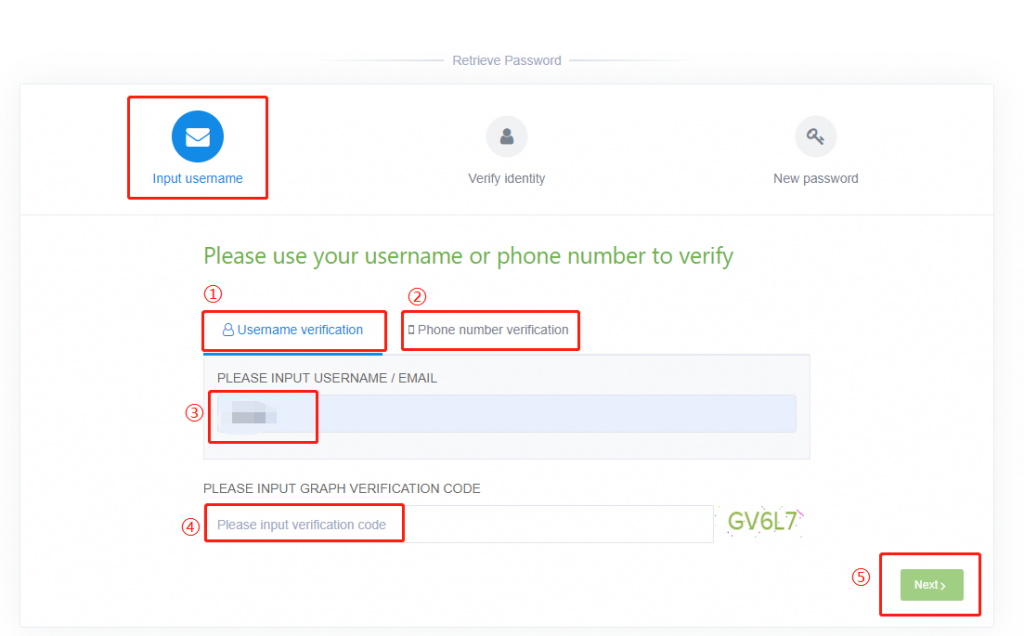 4.Skip to verify identity step, click "Verify" button, then input the verification code you received, click "Next".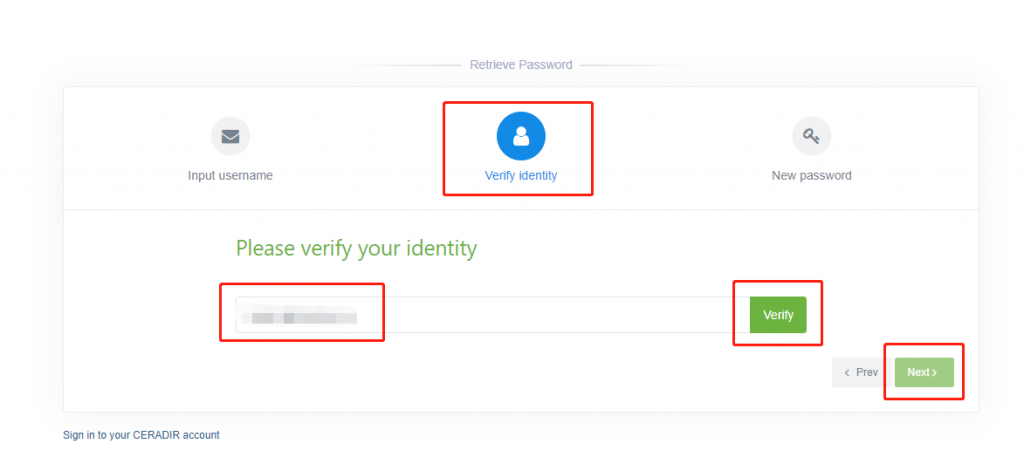 5.Into "New password" page, Set your new password twice and click "Confirm".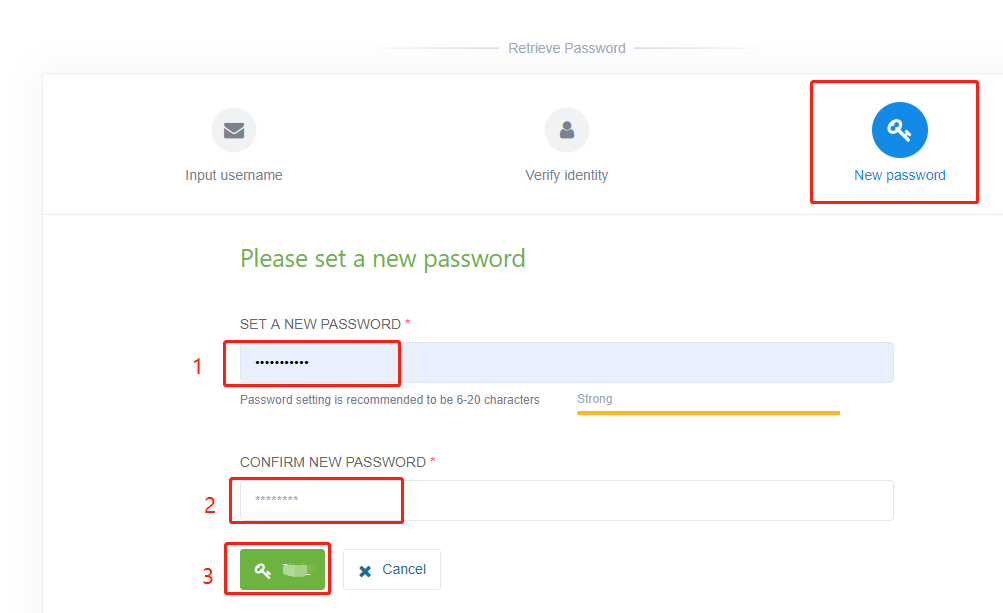 6.After your new password successful change, it announce "new password has been saved", you choose "click here to login"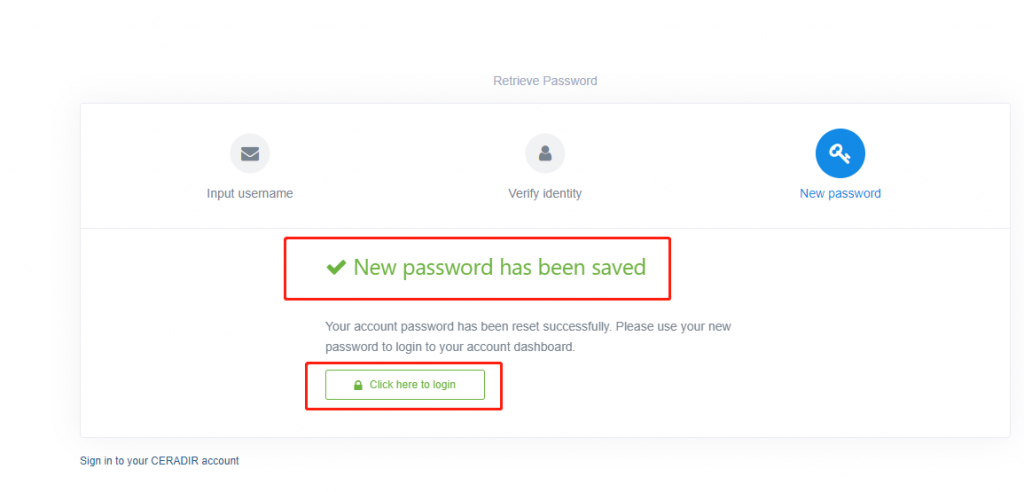 ---
General Issues
In order to help you find your favorite product, please notice the following points:


 Only search product name, do not add adjunct words.


 If you want to search a number of products, we seggest you to search separately.


 Try to search related product name.


 Search by industry.


 Use filter conditions.


On the top of search result page, we offer many fliter conditions such as "By category", "By features" "By materials". Use fliter can help you to increase searching precision.
If you do not find suitable products or suppliers, we strongly suggest you to send a public RFQ, to let the best supplier to contact you forwardly!
A good product title is important to buyers. Title is the core of informations. Clear description with key words' title can make the buyers easily get the product's important detail.
A high-quality title include the following aspects:


Including key words related to product, use popular product name.


Show the product's brand, model, competitive fonction as clear as possible.


Let buyer know your product's application area as much as possible.


According to different industry & different product, there is also different way to edit a high-quality product title.
You can upload your certificates to "Qualification Display" (Supplier module - profile management - edit english profile - qualification display), normally upload certificates like "business permission",  "patent license", "quality certificate", "brand authorizing" etc.
To ensure each registrered company informations' authenticity, credibility and company profile promotional effectiveness, every company in CERADIR™ is allowed to register one free company main-account.


After the verification of phone number / email, your potentiel clients can contact you quickly and easily, you can avoid the miss of business opportunity.


After the verification, you can sign in CERADIR and receive messages, and the phone number / email are also the important way to find back your account, password, and help us to affirm your identity information.


To make sure all requests & inquiries in CERADIR are real and effective.


Upload your company informations on CERADIR™, to make all clients can search / find your company, and get in touch with you.


When you publish real effective company informations, the potentiel client can quick study your company.


Real effective informations can help you to increase exposure rate and ranking in search engine.


Upload business license can attest a company's authenticity, legality, make sure the product, the request released are real and effective, build a good supply-demand platform. A company verification on CERADIR absolutely needs his business license. In additional, all informations on business license are strictly confidential keep by CERADIR, please don't worry.
CERADIR™ is a B2B industry platform which is opened for upstream and downstream factories, traders, service providers, and solution experts in the global advanced ceramics supply chain. We devote to build up a bridge to connect global suppliers and buyers with various business opportunities under the global free trade environment, so as to make contributions to a good business environment of advanced ceramics.
---
---
Can't find your answer?
We want to answer all of your queries. Get in touch and we'll get back to you as soon as we can.
Email us
Technical questions
When you are using CERADIR website if you face technical problems or find some bugs, please call us:+86 0592-5571275 or just send us feedback.
Send us feedback
---