Product Details
---
Product introduction:
Alumina ceramics belong to the new type of ceramics, alumina ceramic materials are mainly divided into three kinds of 95 alumina ceramics, 99 alumina ceramics and composite alumina ceramics; With excellent physical and chemical properties not only in the field of scientific research has become a research hotspot, but also in industrial production to a wide range of applications, refractory materials, high-temperature structural materials and electronic materials are important raw materials. Among all kinds of metal oxide ceramic materials, alumina has the best thermal stability and thermal insulation performance, and is most suitable for ceramic coating and high temperature refractory products.
Taking alumina ceramics as the main raw material, alumina has the lowest thermal conductivity among common ceramic materials, and the thermal expansion coefficient is relatively close to that of metal materials, making it an important structural ceramic material. The special crystal structure makes it an important electronic material.
The molding of alumina ceramics includes dry pressing, isostatic pressing, grouting, hot die casting, casting, injection molding, plastic extrusion, colloidal solidification, etc. One of the most widely used is injection molding and dry pressure molding.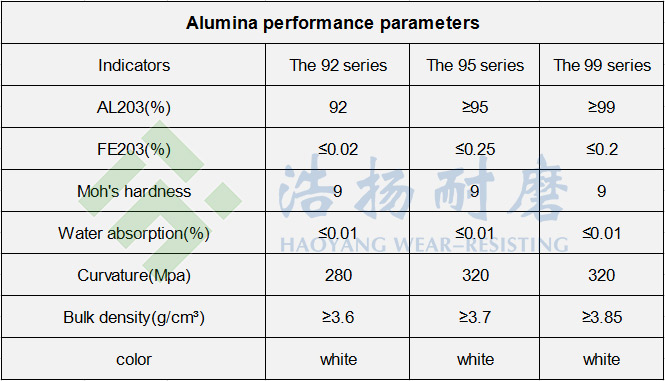 Main business scope:
Alumina wear-resistant structure of the production, marketing; Valve, grinding media research and development, marketing; Wear-resistant materials, ceramics
Porcelain raw materials, mechanical and electrical products, mold abrasive, steel sales; Wear-resistant ceramic engineering construction, technical services; The goods into
Exports.
Shandong haoyang wear-resistant material co., LTD is a precision ceramic material processing enterprise which mainly produces alumina ceramic products, structural ceramic products and other new material components and wear-resistant equipment. The company is located in zibo city, one of China's four major porcelain capitals. Our company covers an area of more than 1000 square meters, the factory building area is more than 1000 square meters, the existing staff of more than 20 people, is domestic alumina ceramics and zirconia wear-resisting products and ceramic finishing one of the main manufacturers. The company introduces a full set of industry-advanced production equipment, including automatic isostatic press, two-way hydraulic press, 1700℃ electric kiln and other production equipment, at the same time, equipped with gravity meter and other advanced laboratory testing equipment, to ensure that the enterprise to carry out high level of production and production links and products for strict inspection. Our company is committed to the concept of advanced technology in the industry, and to user demand oriented to develop new products. Sincerely welcome friends from all walks of life to visit guide.