Features
---
It has high density and hardness, making it suitable for high-quality products, such as ceramic inking, automobile, paints and coating.

It is suitable for high-efficiency horizontal mills and basket mills.

Low contamination of the milling product.

It is suitable for industries requiring nano-sized particles.
Product Details
---
Material: 95% ZrO₂ +5% Y₂O₃
Specific Density: ≥6.03 g/cm³
Size: 0.3mm
Model Number: KD-YTZP
Brand: KINGDA
●40times under microscope for 0.3mm YSZ ball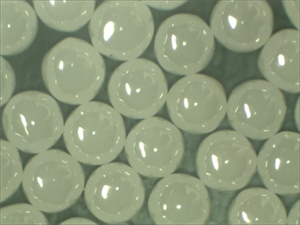 ●Inner structure: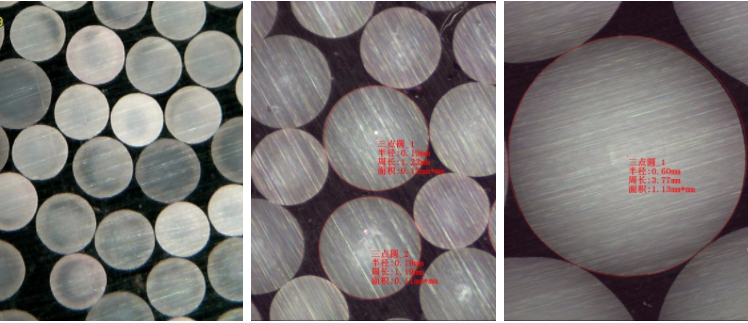 ●Applications:
    Colour, Paint and Coat Industry: Grinding and dispersion of inking, coating and paint systems, e.g. ceramic digital ink, car paint, corrosion 
    protection, dip paints, industrial and structural paints, coil coatings.

●Package:
    25KG/Plastic Drum, 800-1000KG/Pallet with shrink wrapped.
 
●Storage:
  The grinding media should be stored in a dry and clean place.
Product parameters
---
●Chemical Composition:
| | | |
| --- | --- | --- |
| Composition | ZrO₂ | Y₂O₃ + Others |
| Content % | 94.6 | 5.4 |
●Physical Properties:
Specific Gravity

g/cm³

Bulk Density

g/cm³

Hardness

Mohs

Hardness

Hv

Fracture Toughness MPam1-2

Crushing  Load

Kg.f (Φ0.3mm)

Grain size

um

Sphericity

(%)

≥6.03

≥ 3.76

9

≥1210

9

8.2

≤0.3

≥98
●Size distribution:

product name:

Yttria stabilized zirconia bead

size:

Φ0.3mm

100pcs test result by selected random(unit: mm)

0.28

0.29

0.3

0.31

0.32

0.28

0.29

0.3

0.31

0.32

0.28

0.29

0.3

0.31

0.32

0.28

0.29

0.3

0.31

0.32

0.29

0.29

0.31

0.31

0.32

0.29

0.3

0.31

0.31

0.32

0.29

0.3

0.31

0.31

0.32

0.29

0.3

0.31

0.31

0.33

0.29

0.3

0.31

0.31

0.33

0.29

0.3

0.31

0.31

0.33

0.29

0.3

0.31

0.32

0.33

0.29

0.3

0.31

0.32

0.33

0.29

0.3

0.31

0.32

0.33

0.29

0.3

0.31

0.32

0.33

0.29

0.3

0.31

0.32

0.33

0.29

0.3

0.31

0.32

0.33

0.29

0.3

0.31

0.32

0.34

0.29

0.3

0.31

0.32

0.34

0.29

0.3

0.3

0.3

0.36

0.29

0.3

0.3

0.3

0.3